If you are an SBI customer and want to activate SBI net banking for your account then you don't need to visit your branch. You can register for SBI internet banking online using your ATM/Debit card.
SBI Internet Banking facility is a free service that enables you to access many banking services online without a branch visit. You can check your account balance and statement, open FD & RD, order a new cheque book and Debit card, generate ATM pin for your Debit card, change your mobile number and email ID, manage your Debit card limit, and much more.
If you have an active Debit Card then follow the below 9 steps and activate SBI net banking for your account.
SBI Internet Banking Online Registration using ATM/Debit Card
Step 1: Open onlinesbi net banking login page and click on "New User Registration/Activation"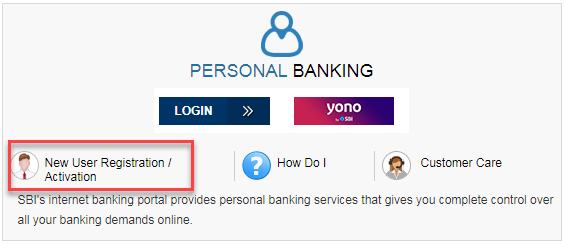 Step 2: Now in the pop-up screen, click on the OK button and proceed.

Step 3: Select "New User Registration" option and click on next.
Step 4: And the next screen, Enter your account number as displayed in your passbook, Enter your CIF number which is available in your Passbook/ account statement, Enter the branch code as displayed in your passbook. If you do not know the branch code click the Get Branch Code link to retrieve the branch code based on the location and branch name, select your country, Enter the mobile number registered with your bank account, Select the Internet banking facility you require: Full Transaction Rights, Enter the Captcha code and click Submit.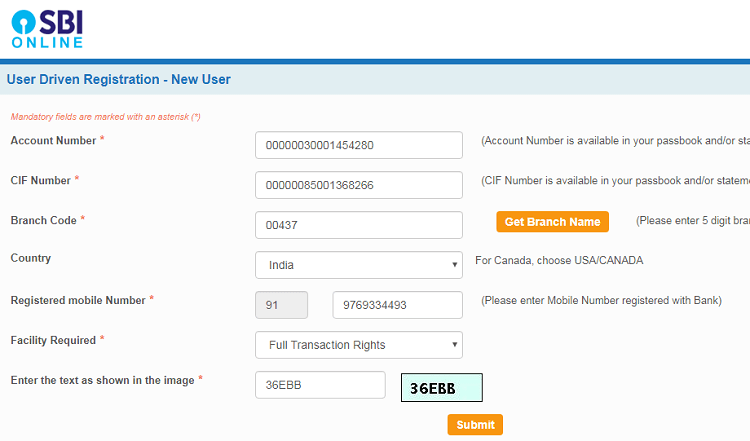 Step 5: Next screen, you are displayed a form to enter the OTP received in your mobile number, Enter the OTP, and click Confirm.
Step 6: Now select "I have my ATM Card (online registration without branch visit)" option and submit.

Step 7: Now you are redirected to the Debit Card Validation page and requested to validate the ATM credentials. Enter the ATM card details and click proceed.
Step  8: After Debit card validation, you can set your net banking username and login password. Set both username and login password and click on submit.
Congrats, your SBI net banking is successfully activated. Now you need to login into your net banking account and set your profile password.
Step 9: Login to SBI net banking, you are displayed set your profile password and hint question answer and submit.
That's all, now you can manage your SBI account online through net banking and access many online services at home.
Frequently Asked Questions
(1) Can I activate my SBI Net Banking online without ATM/Debit Card?
Ans: No, you need to validate your Debit card to activate net banking online. If you don't have an ATM/Debit card then visit your branch and activate offline.
(2) I have already a net banking kit, Do I need to follow the above steps?
Ans: NO, just login using your temporary user name and login password printed on kit and create your new username, login password, and profile password.