Bandhan Bank customers can now change or generate Debit card ATM PIN through Mobile Banking & net banking. If you have both online banking facilities then you don't need to apply for physical ATM PIN. You can generate your Bandhan ATM PIN online.
If you forgot your current Bandhan ATM Debit card PIN or want to change it, then here we will tell you two online methods to generate new ATM PIN online without visiting your home branch.
Bandhan Bank is a private sector bank and current serving banking services across the country. You can open your regular saving account with MAB 500 INR.
1. Generate Banda  Bank ATM PIN Online using Mobile Banking
Bandhan Mobile Banking application available on the play store and apple store. Just install this official mobile banking app and manage your bank account online.
Login to Bandhan Mobile Banking official app.
After successful login, you need to tap on Services section.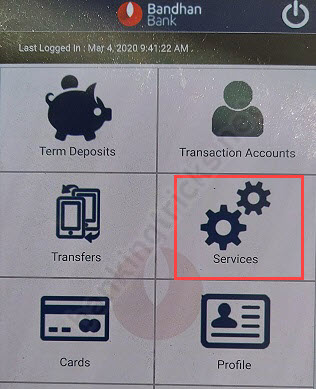 In the Services section, you can see "Regenerate ATM PIN" option, tap and open.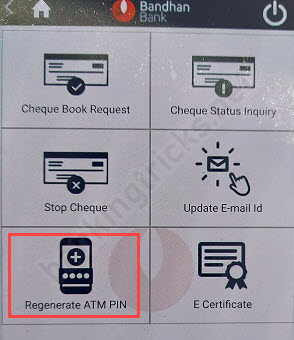 Next screen, enter your 16-digits ATM Debit card number, expiry month and expiry year and click on the Next button.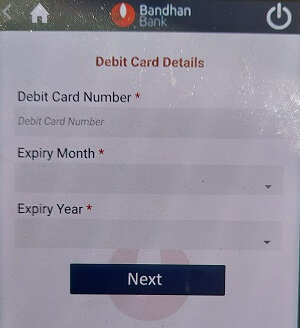 After verifying your card details, now set your new ATM PIN. Enter New ATM PIN, confirm it and submit your request.
That's it, you have successfully changed or generated your Bandhan Bank ATM Card PIN.
2. Change or Generate Bandhan Bank ATM PIN using Net Banking
Bandhan Bank Internet Banking is another online method to change or generate a new ATM PIN for your Debit card. You can activate Bandhan Bank net banking online and access many online banking services from your mobile and PC.
Login to Bandhan Bank Net Banking.
After successful login, click on My Services – Debit Card Services.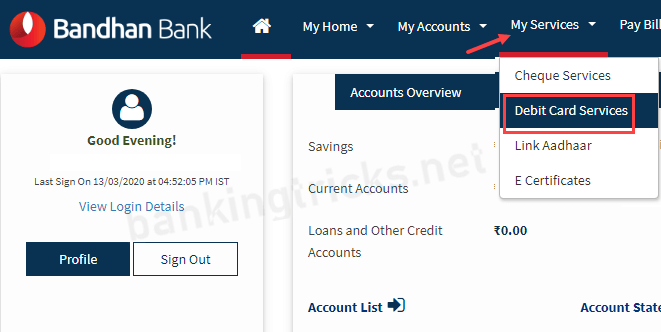 Now click and open Re-generate ATM PIN.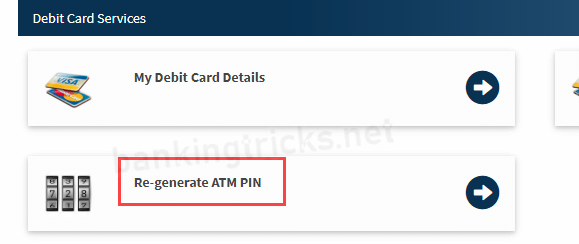 Next screen, Select your Debit card number, enter expiry month and year
Now enter your transaction password and the next screen enter OTP received on your registered mobile number.
And next screen you can set your new ATM PIN. Enter your PIN and confirm.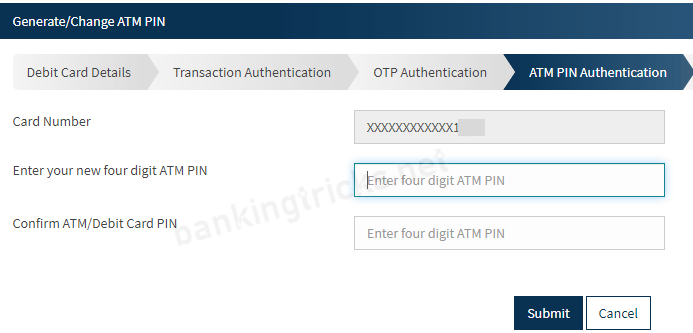 Request Physical ATM PIN by Calling customer care
Bandhan bank customers can also call customer care number and place a request to deliver physical ATM PIN via courier.
Call Bandhan Bank customer care.
The phone banking associate will conduct a verification process.
After successful verification, you can place your request for a physical ATM pin.
FAQ
Q.1: Can I generate Bandhan Bank ATM PIN through SMS?
Ans: No, you can not generate ATM PIN by SMS. You need to login mobile banking or net banking to generate new ATM PIN for your Debit card.
Q.2: I'm unable to receive OTP when generating PIN through net banking?
Ans: Please use a different browser to access net banking.
Q.3: I just forgot my current Bandhan Bank Debit card ATM PIN, how to get a new PIN?
Ans: If you have net banking or mobile banking facility then you can generate a new PIN online. Else, you can also visit your home branch to get a new PIN.
Q,4: My Bandhan Bank Debit card is new, Can I generate new ATM PIN online?
Ans: Yes, if your Debit card active then you can also generate your new Debit card PIN online.