Bank of Baroda has launched ATM/Debit Card online apply facility on mobile banking application so now BOB customers can place a request for a new ATM card online and receive it at a registered address without visiting the branch.
If your BOB ATM Card is lost or you have blocked it OR you want to apply for a different type of Debit Card then no need to visit your home branch, just open mobile banking application, select your type of Debit card and place your request.
Follow below 4 steps to apply for a new BOB ATM/Debit Card online instantly:
Apply New Bank of Baroda Debit Card from Mobile Banking
Step 1: Open Bank of Baroda Mobile Banking application on your phone and proceed to log in.
Step 2: After successful login, you need to tap on "Cards" section as you can see in the below screenshot.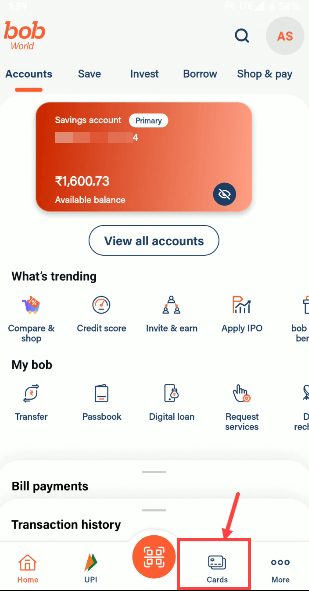 Step 3: Next screen, tap on "Debit Card Request" option.
Step 4: And now select your card type like VISA, Rupay, Master card, etc and click on proceed button. If you want to apply for a Rupay ATM-Debit card then select Rupay option.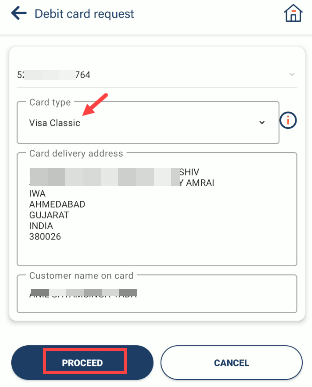 Step 5: Next step, confirm your delivery address and submit the request.
That's all, you have successfully applied for a new ATM/Debit card and it will be delivered to your registered address within 10 working days depending on your location.
Once, your new Bank of Baroda ATM/Debit Card is delivered, you can generate its ATM PIN online through mobile banking and net banking. For card activation, maybe you need to complete one transaction at ATM or you can try an online transaction also if it works.
FAQ
Q.1: My Bank of Baroda Debit Card is lost, how to apply for a new ATM card?
Ans: First block your lost Debit card if you are unable to find it, then follow the above 4 steps and apply for a new Debit card online.
Q.2: When I receive my BOB ATM card after applying online?
Ans: Depending on your location, you will receive your new ATM-Debit card within 10 days.