Do you want to block/unblock your Canara Bank Debit Card? With Canara Bank mobile banking, you can temporarily block your ATM/Debit Card and unblock it anytime. If you have Canara Banj mobile banking then you can also block/unblock your Debit Card.
When you temporarily block your Canara Bank ATM card, all transactions will be disabled and you can not perform any transaction like withdrawal or payments. You need to unblock your card again to access your Debit card.
For your Debit Card security, you can use the block/unblock feature. See how:
Block/Unblock Canara Bank Debit Card
Step 1: Login to the Canara Bank Mobile Banking application and you can see the "Cards" section, just tap and open it. Here you can see the "Block/Unblock Card" option, select this option.
Step 2: Now select the "Block Temporarily" option.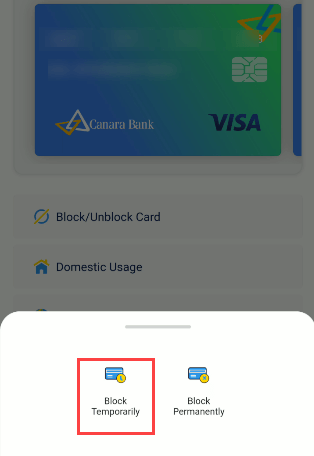 Done! your ATM/Debit Card will be temporarily blocked and all Debit Card transactions will be disabled.
To unblock your Debit card, just tap on the "Block/Unblock Card" option and select the "Unblock Temporarily" option as you can see in the below screenshot.
So this way Canara Bank customers can block/unblock their Debit card using mobile banking. You can use this feature if you want to temporarily block your Debit card instead of a permanent block. Please note, if your Debit card has been lost or stolen then you don't need to block your Debit card temporarily, simply block your card permanently.
FAQs
Q.1: Can I unblock my Canara Bank Debit Card after blocking it permanently?
Ans: No,  you can not unblock it and you need to apply for a new Debit Card.  You can only unblock your Debit card when you blocked it temporarily.
Q.2: How to secure my Canara Bank Debit Card from unauthorized ATM withdrawal and payments?
Ans:  You can use the block/unblock feature and disable all Debit card transactions temporarily.