SBI
How To Generate SBI ATM PIN Online Step by Step
Do you want to change your SBI ATM/Debit Card PIN? Here we will tell you how to change or generate new ATM PIN online for SBI Debit card.
If you have SBI Internet Banking then it is easy to get a new ATM PIN for your Debit card without visiting the branch or ATM machine.
Follow these steps and reset your SBI ATM Debit Card Pin online.
SBI ATM PIN Change/Generate Online Step by Step Process with Screenshot
Step 1: Login to SBI net banking account https://retail.onlinesbi.com/
Step 2: After successful login, click on "e-Services" tab, here you will find "ATM Card Services" option, click on it.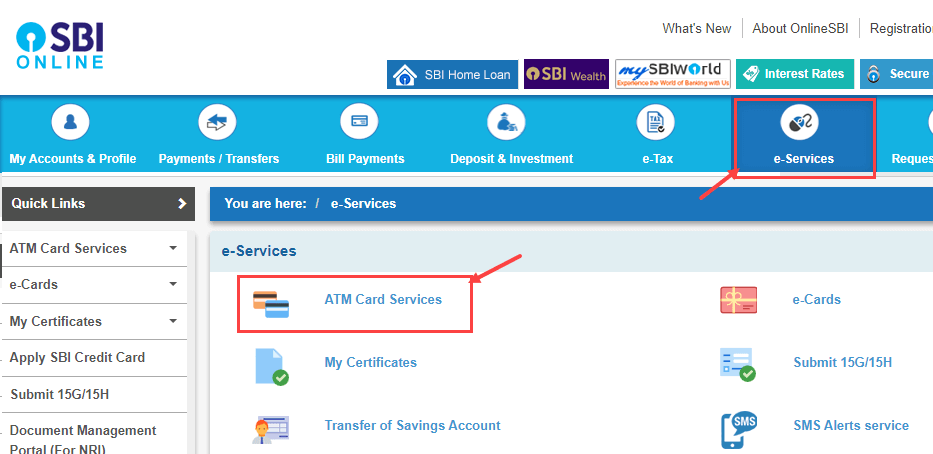 Step 3: Next screen, you need to click on "ATM Pin Generation" option as you can see below screenshot.
Step 4: And next screen, you need to choose your option to validate. If you don't know your profile password then select the OTP option OR select the profile password and enter the same in the next screen.

Step 5: Now select your saving account number and click on next.

Step 6: Next step, you need to select your Debit Card number and submit.
Step 7: And next screen, you need to enter the first two digits of new ATM pin number you want to create. The remaining two digits will be sent to you through SMS.
Step 8: Next screen, Enter the first two digits which you entered manually. Then enter the next two digits which you received through SMS.
Congrats, you have successfully generated a new ATM PIN for your SBI ATM Debit Card. Now your new ATM PIN is ready to use.
Frequently Asked Queries
(1) Just forgot my SBI Debit Card ATM PIN, Can I reset it online?
Ans: Yes, you can reset your ATM Pin online by following the above steps and get a new Pin for your SBI Debit Card. Make sure your mobile number is registered with your bank account.
(2) How to generate ATM Pin for my new SBI Debit card?
Ans: If you received your new SBI Debit Card then first you need to activate it online and then you can generate ATM Pin for your new Debit card by following the above steps.