Indian Bank customers can now view and check their passbook online. Yes, the bank has launched mPassbook (a digital passbook) facility on mobile banking so you can view your passbook from your mobile phone and check your account transactions details.
Normally to check account transaction history, you need to visit the bank with a physical passbook and after passbook printing, you can view your account tractions details. But now you don't need a physical passbook and no need to visit the bank for printing, you can open Indian bank Mobile Banking and view your passbook online.
All you need Indian Bank mobile banking application to view your mPassbook on your mobile phone.
See how to check Indian Bank mPassbook on your mobile phone:
View Indian Bank mPassbook Online
Step 1: Open the Indian bank mobile banking application and login.
Step 2: After successful login, you can see the "m-Passbook" section, just select and open the m-Passbook section.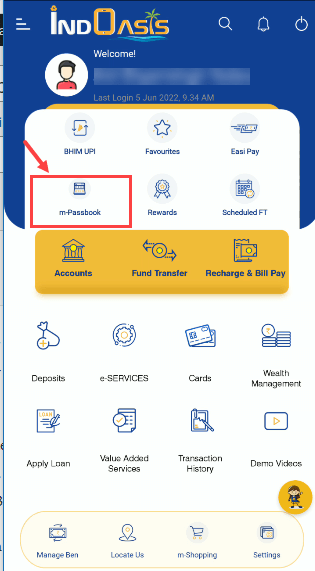 Step 3: Now select your account number and tap on the view button. Done, now you can check your account transactions history and balance on the screen. You can also use the advance search option to check credit/debit-only transactions and also you can save your transaction details in PDF format by tapping on the PDF icon.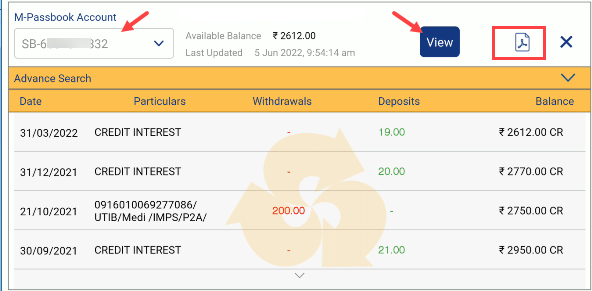 Indian Bank m-passbook facility is really very helpful for senior citizens to check account transaction details online without visiting the branch with a physical passbook.
So this way Indian Bank customers can view and access the passbook online and check account statement details using the mpassbook facility from their mobile phone.
FAQs
Q.1: How can I check my Indian Bank passbook?
Ans: Now you can check your Indian Bank account passbook online using mobile banking application. All you need to do is install and activate Indian Bank mobile banking. Please follow the above steps to view your passbook online.
Q.2: Can we get Indian Bank passbook online?
Ans: Indian Bank offers m-Passbook facility on mobile banking so you can check your digital passbook from the mobile phone.