It is now mandatory to link your Aadhaar card with your Pan card and if you do not link your PAN number with your Aadhaar card, your Pan card will become inactive and one may face a slew of penalties. If you hold a bank account, Demat account then you must link Pan with Aadhaar.
Here we will tell you two simple methods to link the Aadhaar card with Pan online.
Link Aadhaar Card With Pan Card Online
Step 1: Visit the income tax of India's official website: https://www.incometax.gov.in/iec/foportal
Step 2: Here you will find "Link Aadhaar" on your left side in quick links.
Step 3: Now enter your Pan card number, your Aadhaar card number, your full name as per Aadhaar, and your mobile number. If you have only year of birth in Aadhaar card then check this option else leave it. Now click on "Link Aadhaar"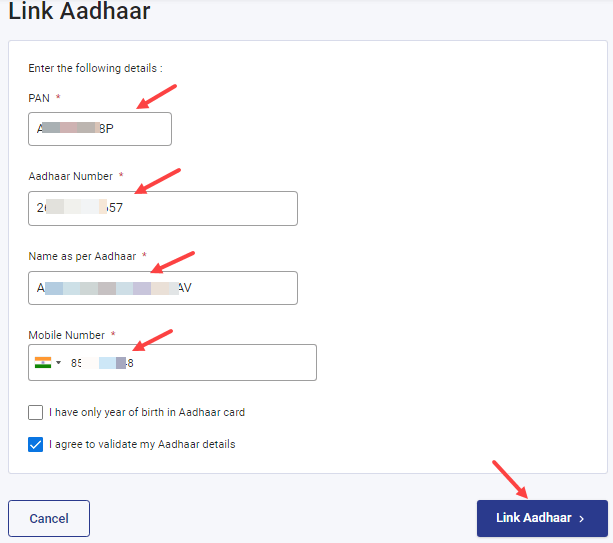 Done!  if your Pan card and Aadhaar card details are matched then a pop-up message will inform you that your Aadhaar has been successfully linked to your PAN.
Link Aadhaar Card With Pan Card by SMS
You can also send an SMS from any mobile number to link your Aadhaar with Pan. Please follow the below SMS format:
Type "UIDPAN<space>12 digits Aadhaar number<space>10 digit Pan number" & send to 56677 OR 567678 (SMS charges apply)
After sending the below SMS, you will receive a reply message "Your Request for Aadhaar (XXXXXX) PAN (XXXXX) seeding has been accepted"
So by following these two methods, Pan card holders can link their Aadhaar card with their Pan card online. If any details like name, date of birth mismatch then you can not link your Aadhaar with Pan. You can correct these details online through the UIDAI website & NDSL website.