To correct/change your name in PAN Card using Aadhaar Card all you need: Aadhaar Card & Aadhaar Registered Mobile number.
PAN CARD online Name Correction using Aadhaar Card (Step by Step)
Step 1: Visit NSDL official website and click on the "Apply Online" option. In Application type, select "Changes or correction in existing PAN Data" & select "INDIVIDUAL" in the category. In the title, select Shri, smt, or kumari option. Enter your Surname, first name, and middle name. Enter your Date of Birth, Email ID, and mobile number. Select "YES" option in whether citizen of India. Enter your PAN card number and submit.
Step 2: After registering, you will receive a Token number. Use this token number to log in again if you face any technical error during the process. Now click on "Continue with PAN Application Form"

Step 3: In the next screen, select "Submit digitally through e-KYC & e-Sign (Paperless)" as you know we are using Aadhaar card to update/correct name. Whether Physical PAN Card is required? Select" YES" option so you will receive an updated PAN card to your address.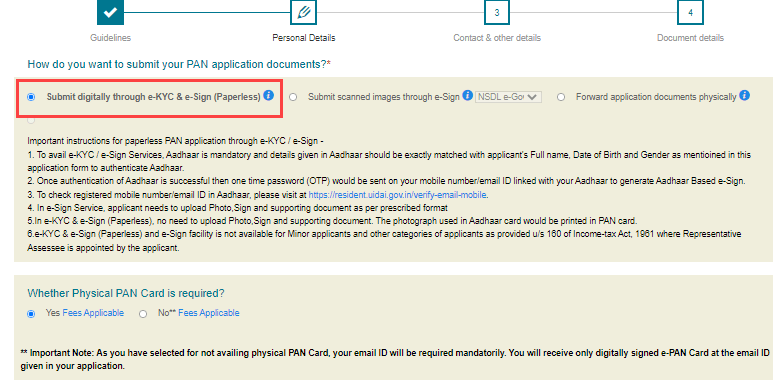 Step 4: Next, enter your Aadhaar card last 4-digits and select "Yes" option in the disclaimer so your photograph as available in the Aadhaar card shall be printed on the PAN card.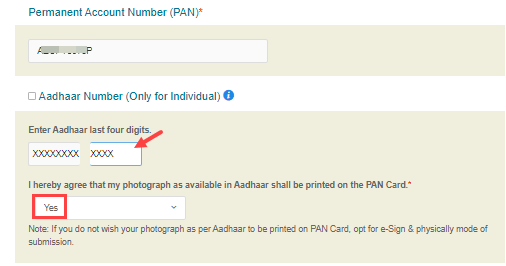 Step 5: And next you need to tick mark (√) "Full Name of the Applicant" option as you can see below screenshot. Also remember, you just need to tick mark only this name section, don't tick mark other section. Enter your name as per your Aadhaar card. In "Name that you would like printed on PAN card" column enter your full name as per Aadhaar name.

Step 6: Next, enter your father's surname, name. You don't need to enter your mother's name because it is an option. If you want to print your father name on Pan card separately then select "Father's name" in Parents name to be printed on the Pan card"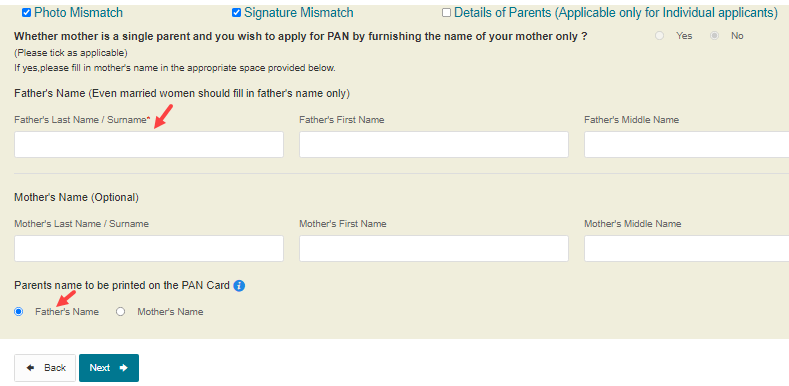 Step 7: In the next screen, you just need to enter your Country code (91) mobile number, and email ID and proceed to the next.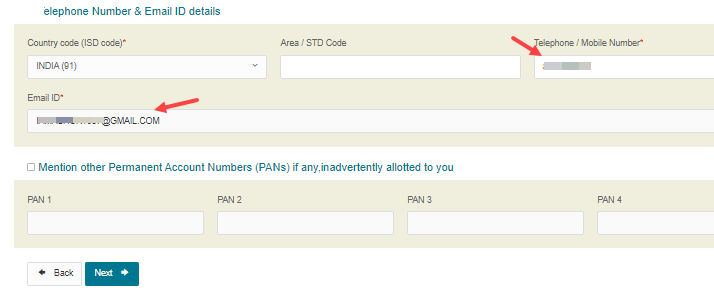 Step 8: Next screen, you need to select "PAN card copy" as proof of Pan, fill the declaration column and click on submit.
Step 9: In the next step, you need to enter your Aadhaar card's first 8 digits. You can here check all your details and also confirm your name whether entered correct or not. If everything is ok then proceed further.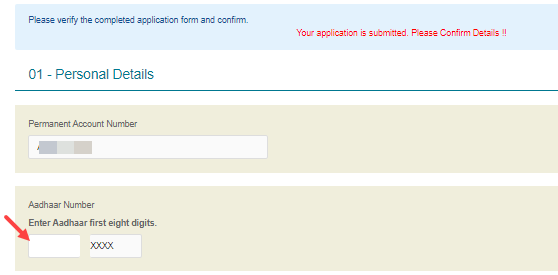 Step 10: Finally, you need to Pay Rs.106 online which you can pay using Debit card, net banking, and UPI.
After successful payment of 106, now you need to verify your Aadhaar Card using OTP which is sent to your Aadhaar registered mobile number. If you face any technical error after payment, you can log in again using the token number and proceed further. Verify your Aadhaar card using OTP and you are done.
You will receive an acknowledgment number after submitting your request. You can track your application status using this acknowledgment number by visiting NSDL
Once your request is approved, your physical Pan card copy will be sent to your registered address.
Points to be noted:
Aadhaar registered mobile number required to authenticate Aadhaar card
Tick mark (√) only on name section
Field with * mark mandatory to fill
The name will be changed as per Aadhaar Card name
Your Aadhaar Card photo will be printed on your Pan