If you want to submit your SBI cheque details to the Positive Pay system then first you need to register your account with the Positive pay system (PPS). You can activate your SBI account for positive pay online using net banking and mobile banking.
The concept of Positive Pay involves a process of reconfirming key details of large value
cheques. Under the process, the issuer of the cheque submits it electronically, through channels like
SMS, Mobile App, Internet Banking, ATM, etc. certain minimum details of the cheque to the
drawee bank, details of which are cross-checked with the presented cheque by CTS.
With effect from 1st January 2021, the facility is enabled for anyone issuing instruments above
Rs.50,000/-. Only those cheques, which are compliant with the above instructions will be accepted
under the dispute resolution mechanism under CTS grids.
Follow the below two methods and register your SBI account with Positive Pay System online:
Activate Positive Pay for SBI Account using Mobile Banking
You can easily register yourself with the positive pay system online using SBI mobile banking (YONO Lite). Just follow these simple steps:
Step 1: Login to SBI YONO Lite and open the "REQUESTS" options.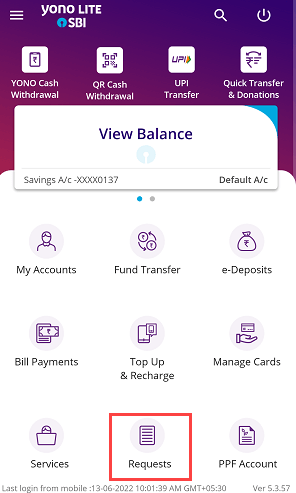 Step 2:  Next screen choose "POSITIVE PAY SYSTEM" option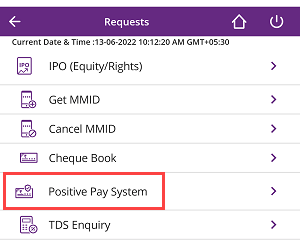 Step 3: Now tap on "NEW REGISTRATION" option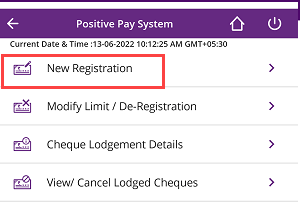 Step 4: Next screen, select your account number, select "All CHEQUES" OR "CHEQUES BEYOND PRESCRIBED LIMIT". Enter the limit and submit your request. (If you have selected the "All Cheques" option then you need to submit all issued cheques details to positive pay & if you have selected "Cheques beyond prescribed limit" then you just need to submit those cheques which come under the limit set by you)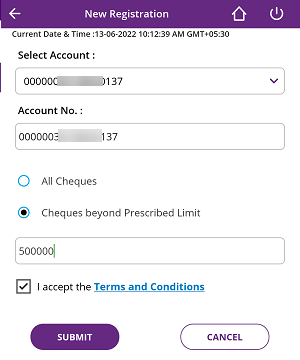 That's it your SBI account is now registered with the positive pay system. If you want to de-register your account OR want to modify the cheque limit then select the "DEREGISTER/MODIFY" option.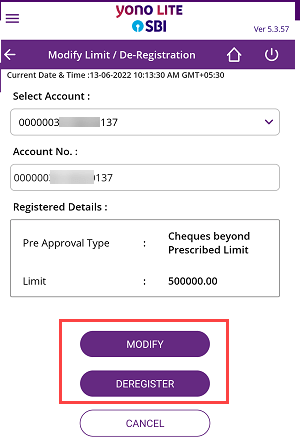 Register SBI Account with Positive Pay online using Net Banking
You can also use SBI net banking and register your account with the positive pay system. Please follow the below steps:
Step 1: Login to SBI internet banking and click on "Request & Enquiries – Cheque Book Services"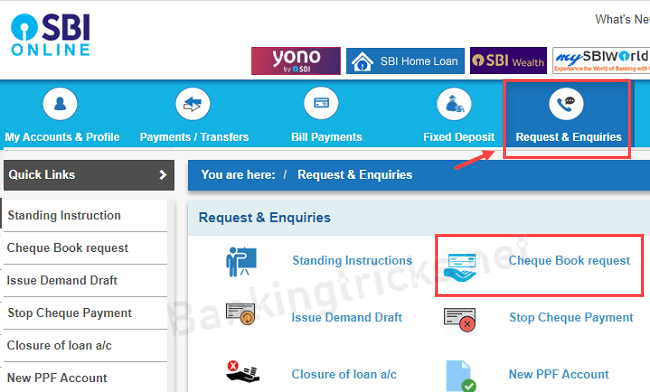 Step 2: Next screen, select "Positive Pay System"

Step 3: And finally, select your account number, select "All Cheques" OR "Cheques beyond the prescribed limit and set the limit" then submit your request.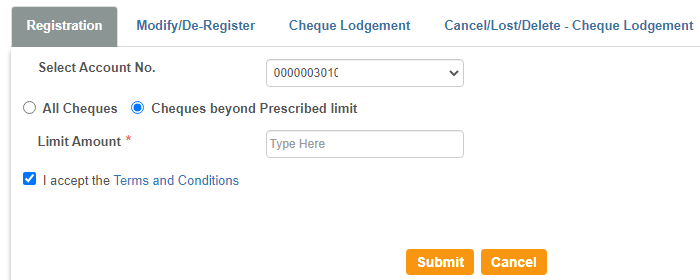 So this is how SBI account holders can register for the positive pay system and submit their issued cheque details online to PPS system.