An interest certificate lets you help you file your income tax return. You can also check how much interest is paid to your savings/FD and RD account using this certificate. Don't worry you don't need to contact the branch to get your SBI account interest certificate file. You can download your certificate PDF file online using SBI net banking.
If you are an SBI customer and looking for your savings/FD account interest certificate then proceed with the below steps and get it now.
How To SBI Interest Certificates Download Online
SBI internet banking facility lets you download your savings/FD account and loan account interest certificates online without wasting your time in the branch. If you have SBI internet banking then just follow the below step-by-step process:
[1] Visit SBI net banking login page and login to your account using your Username and login password. After successfully login, click and open the "e-Services" option. Then click on the "My Certificates" option as shown below image.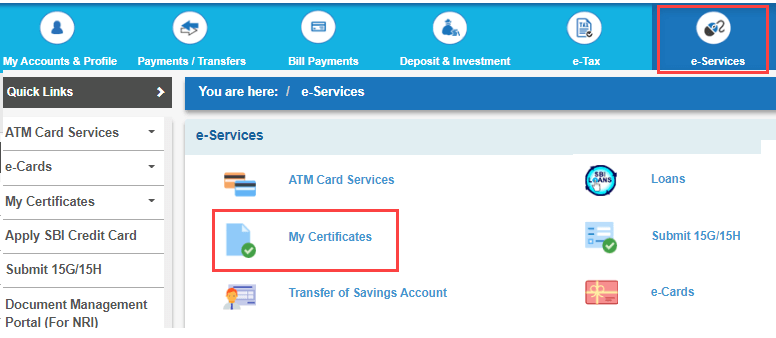 [2] Next screen you can see many certificate options available to download like your loan accounts, FD accounts, and savings accounts. If you wish to download your saving/FD/RD account interest certificate then select the "Interest Certificate on deposit A/Cs" option and proceed.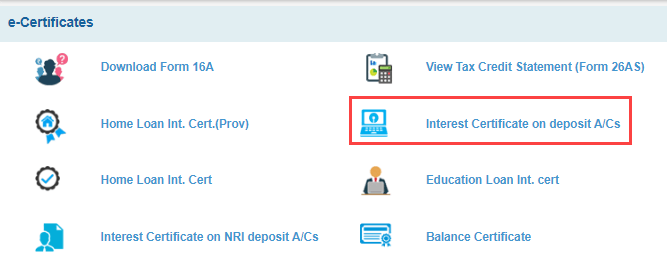 [3] On the next screen, you need to choose your financial year and click on submit button.

[4] Now you can view your interest certificate on the next screen. You can see your accounts list and net interest paid to your deposit accounts. To download the interest certificate file, just click on the "View/download in PDF" option and your certificate file will be saved in your device storage. You can also save this file in HTML format.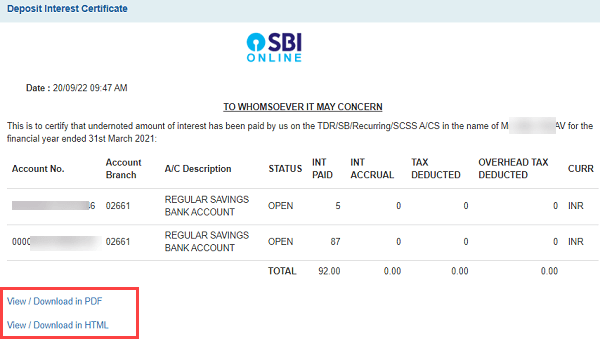 So this way you can avoid bank visits and download your SBI account interest certificate online. Currently this facility is available only on net banking.