SBI
How To Track SBI New Debit Card Delivery Status Online
If you have applied for a new SBI ATM/Debit Card online through net banking then you can track your Debit card delivery status online and check what is the current status of your card and when it will be delivered to your address. Normally, SBI new ATM/Debit card is delivered through India post speed post courier service and you can track your Debit card through the tracking number.
So here we will tell you, how to check your SBI Debit Card delivery status after applying it through net banking.
Check SBI ATM/Debit Card Delivery Status And Tracking Number Online
Step 1: Login to the SBI YONO Lite Mobile Banking application.
Step 2: After login, tap and open the "Manage Cards" section.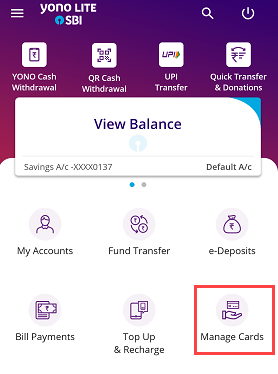 Step 3: In the manage cards section, you can see the "Debit Card Issuance Tracking" option, tap on this option.
Step 4: Next screen, select your account number. select the year and month when you applied for a new ATM/Debit Card and click on submit button.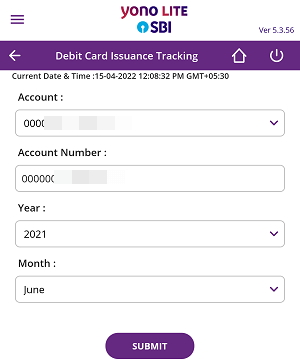 Step 5: And the next screen, you can view your Debit Card request status. Here you can see the card request date, card request status (accepted/rejected), last 4-digit of the new Debit Card, and Dispatch Status. You can see the India Post tracking ID number to track your Debit card delivery status. An SMS will be sent to your registered mobile number where you can see the dispatch date and speed post tracking number.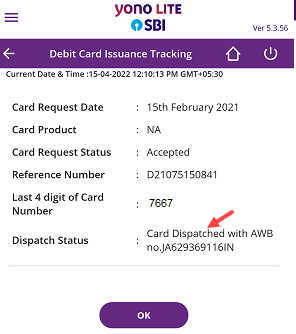 FAQs
Q.1: How to get the SBI ATM/Debit Card speed post-delivery tracking number?
Ans: You can check the delivery tracking number through mobile banking. Please follow the above simple steps.
Q.2: How to know my new SBI Debit Card current Status?
Ans: You can check your new SBI Debit Card status online by login to mobile banking and know when it will be delivered to your address and also you can see the tracking ID number.